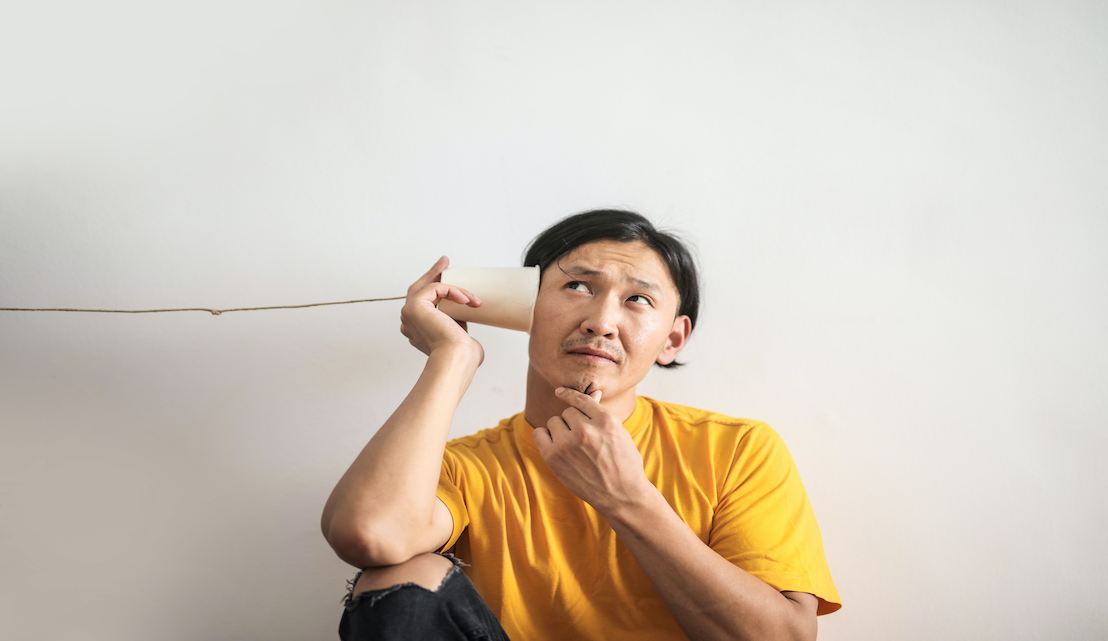 Day 16 Listening is an Act of Love
_________
29 Mar 2021
This entry is inspired and adapted from Haemin Sunim's Love for Imperfect Things

There are times in our lives when a really difficult situation comes up and we want to talk about it with someone. At such times, what sort of person do you end up seeking out? A friend who is smarter and has a clearer head? Or a friend who seems like they will listen to you warmly and be on your side? I will usually go for the latter. From someone's facial expressions, tone of voice and body language, we come to feel cared for and acknowledged and understood. When someone would focus on me, letting me say what I wanted to say without cutting me off or changing the subject, my troubled heart would begin to open up, and I would start to share those bottled up stories without fear of being judged.
Being a teacher, I've many times found myself in a situation where a lesson I've prepared is actively engaging, challenging and invites full participation of my students in one class, whereas in another class, it's quite the opposite. Students are quiet, look puzzled and leave my class with little progress. I sometimes wonder why that is. If my students and I are attuned to each other, my lesson flows like a river, coursing through the classroom on a lively atmosphere. But if my students decide to only be receptive on the day, passiveness won't help them progress. This is why listening is not a passive activity at all, it requires an open mind, patience, engagement and attention.
Just during my recent visit to Lanzhou, my grandma confided in me many of her concerns and worries, and I just sat and listened by her side. I couldn't interact with her much because her dialect was hard to understand, but not really because I was actively listening. Each time she starts a new story, one of her children would say, Mom! We've heard this a thousand times already! But grandma told the story anyway. She didn't need a person to discuss the issue with her, just a pair of listening ears.
So I encourage you to think once in a while, about whether there are family members or friends going through a difficult time. Even though we may not have solutions to the problems they are facing, they will be grateful just to know we are there, willing to listen.
第16天 倾听是爱
——读海明-苏尼姆《关爱不完美》有感
生活中总会有这样一些事态艰难而我们渴望对某人倾诉苦衷的时刻。在这时,你最会愿意和哪种人一吐心扉呢?是一个头脑敏锐的精明朋友,还是一个善于倾听,保证站在你这边的朋友?我通常会选择后者。从一个人的面部表情、说话口气和肢体语言中,我们可以获得被关怀、被理解、被安抚的感觉。当一个人能够专心致志听你畅所欲言而不会随意打断也不会转移话题时,我那饱受摧残的灵魂便会敞心扉,于是我便可以不用忧心被人指手画脚而将心中积怨一吐为快。
作为一名老师,我经常遇到这样一种情况:我所备的课能够在某一个班级讲授时获满满的参与度与挑战性,可在另一个班级讲授时的效果却是天差地别。有时我会思考这一切发生的缘由:如果学生们和我这个老师的思路琴瑟和弦,那课程进度就会如河川激流般奔涌向前,将整个教室都带入一种流畅活泼的氛围;但要是我的学生们只接而不反馈,那这死气沉沉的课堂氛围也不太可能帮助他们取得进步。这生动诠释了倾听绝非被动行为的奥妙所在:它需要包括虚心接受,耐心理解,深度参与和注意力集中在内的一系列主动性精神活动才能得到有效践行。
不久前,就在我回兰州时,姥姥向我一吐她的许多闹心事儿,而我只是坐在她身边静听吐槽。我实在没法与她更多交流,并不是因为我没有在认真听,而是因为姥姥的口音实在是太重了。每次姥姥一谈起这些陈年旧事,老妈和小姨们便会不约而同地叫唤起来:"吾娘,您就别……"这样的场面实在是屡见不鲜,不过姥姥还是不为所动,一如既往讲述着那些故事。她不需要有人与她讨论这些陈芝麻烂谷子的往事,她只需要有人耐心听讲就够了。
正因如此,我才会鼓励你们多聆听一会儿,只有这样才能从只言片语中捕捉到亲朋好友们所可能面临的困境。即使我们未必能真的为他们解燃眉之急,他们也一定会为我们在场的倾听与理解而感恩万分。
Photo by Andrea Piacquadio from Pexels
---